| | | | | |
| --- | --- | --- | --- | --- |
| | | | ANA-MARIJA STOJIC | |







Height:
Weight:


5'4"
140 lbs.


Hair:
Eyes:


Brown
Brown




Originally from Yugoslavia, Ana-Marija is a versatile comedian, writer and performer. Most recently she performed in the Just For Laughs Originals taping at Dynasty Typewriter in 2021. Her original screenplay, Stefan, made it to the Second Round of the Austin Film Festival Script Competition 2021, was selected as a Finalist at the Big Apple Film Festival Agents and Managers Lab 2021 and the Big Apple Film Festival Screenplay Competition 2020, the quarter-finals of the 6th Annual TV Writing Contest in 2021, the Scriptation Showcase quarter-finals 2021, and the Creative Screenwriting Competition quarter-finals 2021. She was also a staff writer for The Beaverton, an online satire news site, in 2020.

Ana-Marija performed at the pre-show for Adam Sandler's performance in Toronto 2019.  She did her first TV taping at Winnipeg Comedy Festival that aired on CBC in 2020 and was featured in NBC Showcase in the Women in Comedy Festival Boston 2018. Her completely improvised, multi-cam, live switched sitcom she developed called APT 205 was selected as a pitch finalist at Stareable Fest in NYC 2019.

She was a recipient of Netflix's 2018 Diversity of Voices fellowship at the Banff World Media Festival, and was one of 20 applicants selected for their industry pitch program.

Ana-Marija's podcast she co-hosted called "F*ckgirls" was featured on iTunes "New and Noteworthy." Â It was also nominated for Best Podcast at the I Heart Joke Awards 2020. Her web series of the same title completed its first season online and was selected for the Great Canadian Sketch Comedy Film Festival 2018. She also has an original series she co-wrote and stars in called "Neighbours," broadcast on CBC Comedy digital. And has appeared numerous times in the comedic series "Torontopia" broadcast on CBC Comedy. She has also been in 3 national commercials.
https://www.anamarijastojic.com/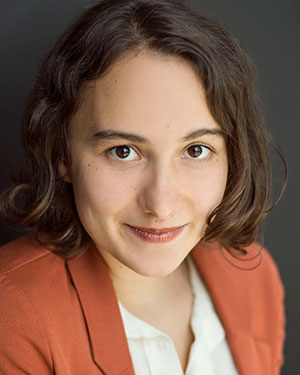 click for print-ready 8x10